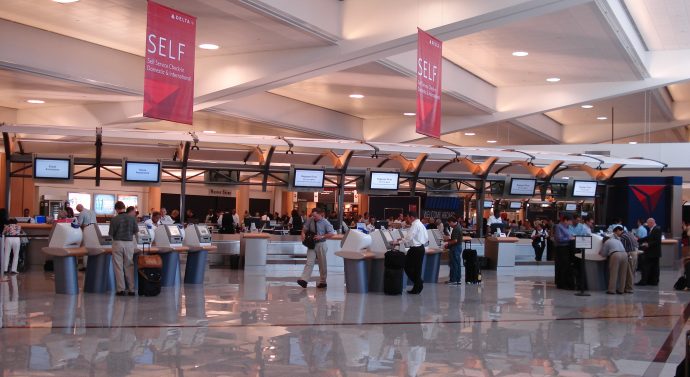 Labor Day travelers will be happy to hear that the wait times at Atlanta's largest – and the world's busiest – airport are significantly shorter than in the past. According to the AJC, The wait times at security checkpoints at Hartsfield-Jackson International Airport were under 20 minutes an impressive 96 percent of the time in July! This is the shortest wait times have been in over seven years. The improvements in wait time occurred after the TSA added staff and canine teams to early-morning shifts that tended to be busier.
Delta's News Hub published:
Delta gifted the TSA two innovation lanes this week at the airline's hometown Hartsfield–Jackson Atlanta International Airport. The lanes speed up wait times at security by providing five divestment points. An automated bin system keeps empty bins circulating and routes bins that alarm the system to a separate area for inspection, ensuring an ongoing flow of people and bins. (May 26th, 2016)
Airport officials claim that these "innovation lanes" can speed up screening by 30 percent.
Tips and Tricks
That being said, I'd like to share some tips and tricks to getting around the world's busiest airport.
Dropping off or picking up? There is a downstairs entrance on the North and South side. Both have check-in kiosks and the South entrance has baggage services. Lines are usually shorter and it is generally less chaotic. 
Faster Checkpoints. There are two lesser known checkpoints past the American Airline counter to the North and Delta ticketing to the South. These may be faster no matter which airline you're flying.
T-Gate Tip: use the side security checkpoints and walk to the T-Gate. It is faster than using the tram.
Arriving? Jump in the first car of the tram if coming from A, B, C, D, E terminals. This will let you out in front of everyone else at the baggage claim.
Free Wi-Fi at the E terminal food court. Courtesy of Hojeij Branded Foods.
Need a Nap? B Terminal offers a Minute Suites rental area. Rooms are $30/hour and have a day bed, wi-fi, HD TV, and workstation.
XPresSpa at Concourse A and C. $20 for a manicure, $25 for a 10-minute massage.
Trak-a-Flight offers your flight's updates for free. Provided by Atlanta Airport. Trak-a-Line gives updates you on security checkpoint wait times.
Forego Fast Food! One Flew South, located in Concourse E, is not your typical airport fare. With almost 5 stars across the board, this airport is loved by travelers. According to CNN's Pamela Berger,
A couple of entree highlights are Thyme Roasted Pork Belly and Fennel and Coriander crusted Lamb Tenderloin. The restaurant also has an excellent sushi menu. For dessert, I suggest the sublime red wine and ginger-poached plums that make you forget you're at an airport. Or if you're just in need of a scrumptious cocktail, saddle up to the bar for the "Portrait of a Bartender," made with Finian's Irish Whiskey, St. Germain Elderflower and organic bitters. That delicious Elderflower makes me sigh with happiness every time.
10. Not feeling so… upscale? Nature's Table offers a healthy alternative to your usual fast food. You can find it midway down Concourse E.
11. Need to Stretch Your Legs? A.B. Snedeker recommends taking children and family members to the Transportation Mall to expend some energy before your flight.
12. Doggie Business – There is a spot outside of Terminal North with pick-up bags and trees. Use the American Airlines baggage area escalator on the north side of the terminal. At the bottom of the escalator, turn left toward the LN2 door. Once outside, turn right, and the dog walk area is just a few steps down the sidewalk.
Helpful Resources: