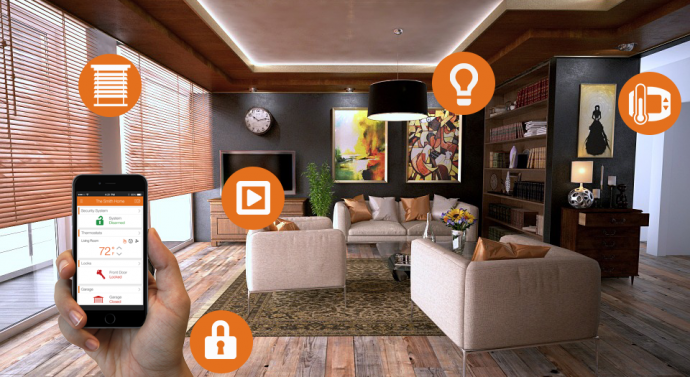 We live in a world where everything from air conditioners to coffee pots is being hooked into Wi-Fi networks. There is a trend in the real estate market toward pre-wired smart homes, where these devices are already installed, configured, and move-in ready. Gone are the days where home buyers were seeking fixer-uppers that needed elbow grease and a lot of TLC. Now home buyers want the job done before the moving boxes are brought in. This means that everyone in real estate, from the brokers to the subcontractors, are having to take a close look at smart devices and smart appliances. When a home (or apartment) is considered "Smart" the seller can expect a higher return in a shorter time, so it is clear why there is a push in this direction.
You may be thinking that this is because those 20-somethings are so used to new-fangled smartphone technology and remote controlled everything, but it isn't just the millennials that are pushing for smarter homes. According to Sean Blankenship, Coldwell Banker's CMO, "We thought it would be driven by the younger generation but our research found that it really is across generations: empty nesters, millennials and Gen Xers with kids all want smart home technology. Early on, we recognized that this spanned the generations. It started from the feedback we were getting from our agents in the field who were telling us that buyers were starting to ask more and more about technology features in the home. This is really for us a consumer-driven initiative" [brandchannel].
Let's talk about a routine in a smart home.
With smart thermostats like Nest, you can program your thermostat to warm up the house before you wake up and crawl out from under that cozy blanket. But a toasty house won't wake you up, so how do the smartest of us open our eyes in the wee morning hours?
The alarm has been with the clock for a very long time. It has always been a bit of a shocking way to wake up, as if we are all firefighters at 7:00AM weekday mornings. That isn't even considering that many of us have someone else in bed, who may not need to be up at 7:00AM, but their ears are sure ringing! That morning routine will be as antiquated as floppy disks. Sure, they got the job done, but then we found CDs, memory sticks, and the cloud. The revolution in alarms is called Wakē by Lucera Labs and it is delightful! According to USA Today's Simon Cohen, "The sensor, which can accurately read temperatures to within a tenth of a degree, locates its intended target sleeper. A small motor swivels the Wakē so that it's pointed at the sleeper's head. At wake-up time, a bright white LED slowly illuminates, while the parametric speaker creates a cone of sound that only one person can hear. Settings and sounds are controlled by a free app. And there's no need to turn the device off — that same sensor knows when you've left the bed" [A smart alarm clock that is all about you].
Now that you're out of bed and not in a state of ringing-induced panic, you can begin your morning routine.
You've already programmed the blinds in your living room to raise at the same time your alarm goes off, so while the bedroom stays dark and cozy, you can walk into a room filled with natural light.
The days of walking on a chilly tile floor are over with the Pentair SIGNATURE mobile smartphone app. With this little tool, you can have that bathroom floor warm to the touch before you even walk in. It has a 7-day programmable schedule, energy usage reports, and works with tile, stone, wood, and laminate.
Let's say you brush your teeth while you wait for the water in your shower to heat up. Maybe you've gotten distracted and left the shower on for too long and suddenly you're sitting in a room full of steam. Evadrop is a smart shower head that will help you reduce your water bill by conserving water intelligently. When you turn the water on to your desired temperature Eva starting working. A sensor measures the water temperature and when the correct temperature is obtained, it turns off the water flow. When you get in the shower another sensor sees that you are back in the shower and releases the water at 100% flow and the correct temperature. When you move to the middle of the shower to lather up, the water flow drops to 50%. If you step even farther away to shave, the water drops to 30% or turns off. All of these features makes your shower experience greener. In addition, the free app that works with Eva will tell you your water usage history, lets you set goals for shower length, and helps you reduce your usage through a community of users.
Note that Eva isn't the only smart shower. Nebia has created a shower head that atomizes water to increase the surface area of the water droplets and reduce water consumption by 70%. Another possibility is 5 Liters. A regular shower can take as much as 60 liters of water, so they have designed a 5L non-CO2 Shower head solution makes it possible for people to enjoy a refreshing shower, using only 5 liters of water and less energy than a computer uses in an hour.
Don't think for a second that your tooth-brushing routine will be the same in this smart home (okay, it could be, but we know once you've gotten smarter appliances, it is hard to stop there). Kolibree is a smart electric toothbrush with sonic vibration, smartphone application with check-up visual report, and a battery that lasts 2 weeks. Your app will tell you how long you brushed, if you've been neglecting areas, and even has games that kids – and adults – can play while they brush their teeth. Those games aren't just for fun, they actually guide you and can dramatically improve your brushing technique! Just like Evadrop, there are other options available. Prophix by Onvi, Oral-B's Bluetooth-connected toothbrush, and Grush the Gaming Toothbrush (although I find Kolibree's games more entertaining for non-toddlers) are all competitors in the smart toothbrush arena.
Now to brew coffee. You know in this smart home that the coffee is already brewed! It's been years since the coffee pot got the delay timer added to it, but now we've taken it to the next step. Mr. Coffee Smart Optimal Brew Coffeemaker with WeMo is controlled from a smartphone, can be programmed by day and time, and will let you know if you've forgotten to fill up the water or replace the pot. Philip Palermo of Engadget was impressed with the notifications, but made a point to say, "remote controls and some handy reminders may not be enough to justify the Smart Coffeemaker's $250 asking price." Keep in mind that this coffee pot does not refill its own water, store or grind the beans, add milk and sugar, clean itself up, or let you know when you're running out of coffee. So… is it really that smart?
According to CNET's Brian Bennet, the smart coffee makers of today are a "dumb but beautiful dream." His article was a scathing review of the world of smart brewers and culminated with the $2,500 Krups EA9010. That was not a typo. That was two thousand, five hundred dollars, plus tax. What does this not-so-small purchase give you? A one-touch full-color screen, 17 recipes, 2-step frothing technology, automatic steam nozzle, a burr grinder, thermoblock heating system, favorites menu, 1.7L tank with empty tank detection, 280 g capacity bean hopper, and a programmable clock. Its overall Ebay rating is 3.5 stars, which seems low for something most of us wouldn't even think of working into the budget. Once review says, "I mostly loved this machine, but it is high maintenance. There are frequent clean cycles and rinse cycles that always seem to happen when you want your coffee. My main complaint is that the machine broke three times in the second year that we had it. We sent it off for repair multiple times, but the fact that it has broken so many times makes me give this a one star rating for the price" [Google Shopping].
Enough about coffee, it's time to eat.
Most of us can remember the movie Chitty-Chitty Bang-Bang, which had an awesome breakfast machine that cracked the eggs, fried them up with bacon, and served them up with toast. Sounds a little far-fetched, but in a smart home, it isn't so far away. SMART recently introduced the SMART Breakfast Master or SBM2000. This clever little device takes up about as much space as a bread maker and lets you make the toast and eggs at the same time. It can cook hard, medium, or soft-boiled, fried, poached, and scrambled. It is easy to clean, but I'm not sold on its "smart" aspect. You still have to do everything from crack the egg to remembering how everyone likes their eggs and toast. It doesn't even work with a smartphone! Are these the problems of a generation that has handed over tasks as menial as brushing one's teeth to the machines? Yes, but if you are looking for smart, then this may not be the solution for you. It isn't even the only all-in-one breakfast maker on the market. Cuisinart Griddle Compact Grill Centro, Hamilton Beach Breakfast Sandwich Maker, and MaxiMatic EBK-200 Elite 3-in-1 Breakfast Station are all considered great options by Smart Cook Nook. Perhaps if you added a TPLink SmartPlug you could work some magic, but I am sad to say that smart breakfasts are a thing of the future, not the present.
Since I don't want to leave you lost without a hot breakfast, how bout we try an old trick Food Network's colorful personality, Alton Brown, suggested on his episode Mr. Oatmeal. He recommends using a coffee pot to whip up oatmeal in the mornings. First take 2 packets of instant oatmeal, a pack of honey, and some fruit jam. Add these to the pot. Then add an herbal tea bag where the coffee would go. Put 8-10oz water in the hopper and turn on the machine or set a timer so it starts when you jump in the shower. It'll be the perfect consistency and stay warm till you're ready. The only big problem I see here: Cleanup will be painful, but luckily you'll have time since you didn't squander it messing about with a 3-in-1 solution. Also, unless you're willing to forego the smart coffee brewer, you'll need an extra coffee maker.
Well, now you can warm up your car with a remote starter while enjoying oatmeal and coffee. You can ask your Amazon echo what the top stories were in the news and ask her to remind you to pick up the dry cleaning on your drive home from work. You can set your alarm system from your smartphone and check if the raccoons got in the trashcan via your CCTV cameras with live streaming to your smartphone.
As you drive away you get a notification that you didn't close the garage door, turn off the bathroom light, or set the alarm system. With a push of the button you can close the door and turn off the light, but leave the security system inactive since your significant other is still snuggled up in bed.
While you're at work, the blinds that opened in the living room slowly lower as the sun comes through the windows. This reduces your energy bill and (as an added bonus) give the impression that someone is home.
When your newest gadget is delivered you can see the delivery person through your Skybell or Ring smart Wi-Fi doorbells with two-way audio and HD video.
When you're a mile from your home you can have all the lights in your house turn on. So you'll never have to walk into a dark house again. You can have your garage door opened, front door unlocked, and thermostat adjusted as you pull into your driveway.
If it's date night, you can set the tone with Phillips Hue Wireless Dimming Kit and tell Echo to turn on the entertainment system.
That is your day in a smart home as of this moment in technology. Based on the reviews of many of these "smart" products, we have a long way to go before the smart home of the future is less of a tech-support call and more of an intuitive AI experience with learning capabilities.