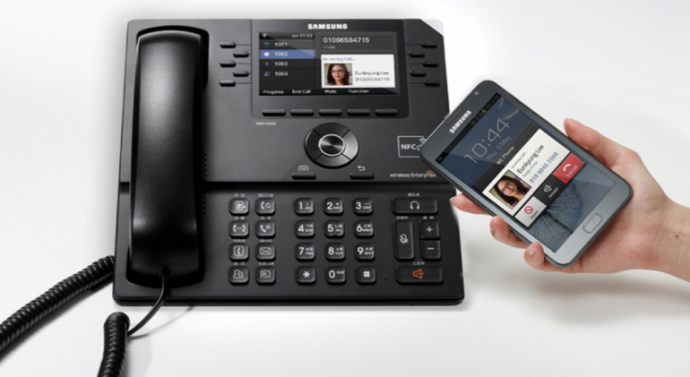 How sweet it is to see Samsung BCS return with a sweet & sexy phone once again!  Rottweiler Systems, Inc., Metro Atlanta's Samsung Certified Dealer is proud to announce the launch of two new products from Samsung.  The Samsung SMT-i VoIP telephones and the OfficeServ Communicator software application that ties video and instant messaging to your business telephone.   Both products are used with the OfficeServ family of business communication products and again place Samsung ahead of other business systems in the market.
Rottweiler's commitment to bring only the best in communications and security solutions to the business community here in Georgia is also found in our decision to continue to provide and support of Samsung business phone systems.  Observing other products fail over the years, and making the right decision to purchase and maintain Samsung as your communications core has proven to be one smart move.
Currently Samsung is the number one purchased phone system in America.  Why?  It works and does not require the IT staff to maintain it, is easy to set up and users don't plague the management with complaints.  Put it in the closet and let it run.  Return of Investment comes quick and cost is of little issue either because of the Businses Advantage Choice Rewards and 0% leasing (part of the BACR program) offered by Rottweiler.  Unlike other more expensive obsolete systems, or their evil twin sister (that robs you monthly) called "hosted PBX", Samsung delivers the most economical system for the dollar invested in the business today.  Cost of ownership usually has continual  Return of Investment and is guarded with the Samsung 5 year manufacturers warranty.  Add the 0% lease option by Rottweiler and you have a winning hand.
Rottweiler Systems is excited to see this improvement to the existing family of phones and applications, specifically OfficeServ Communicator.  OfficeServ Communicator comes in two versions;  Basic and Professional which provide you with many new and advanced features.   Samsung's OfficeServ Communicator and Messenger are all bundled together with the versatility and cost saving features that are a part of VoIP and can be installed with any OfficeServ 7000 series business phone system.
Link your Microsoft Outlook to OfficeServ Communicator and you now have a mobile office as you travel.  OfficeServ Communicator also acts as an out-of-the-box softphone as well.  One of the nicest features of OfficeServ Communicator is the built in Instant Messenger client that allows your business to control the IM messaging that has caused network security penetrations for many companies.
Rottweiler provides Web-Enabled Security systems, economical VoIP hosted solutions and surveilance camera systems as well as a host of other products.